09/05/11: Summer bonanza sample and stock sale this thursday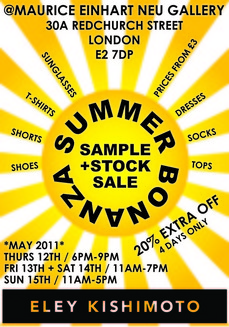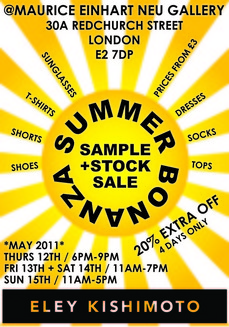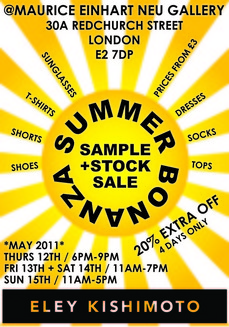 WE HAVE TO CLEAR LOTS OF THINGS FROM THE STUDIO AND HAVE GATHERED TOGETHER LOADS OF AMAZING BITS AND PIECES FOR SUMMER. MENSWEAR, ACCESSORIES, GARMENTS. SHOES, TRAINERS, PRINTS, FABRIC REMNANTS. WALLPAPER, FURNITURE, ETC. ETC..
WE WILL HAVE SOME DRINKS ON THURSDAY'S OPENING NIGHT AND LOTS OF FRIENDS TO SEE.
WISH FOR THE SUN X