13/08/12: Our Olympic Entry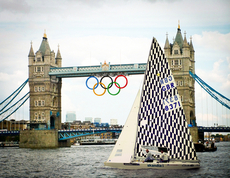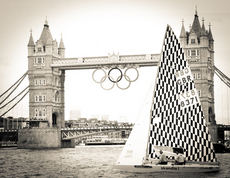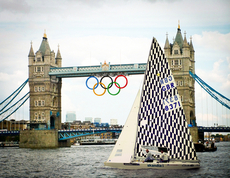 The London 2012 Olympics marks the final year of The Star as a competitive class in the Summer Games.
LONDON - Friday 10th August 2012 - An Olympic 'Fine Art on Sail' - was hoisted on an Olympic Star class yacht at 3:15pm yesterday near Tower Bridge, leaving from South Dock Marina, Canary Wharf and skippered by John Gimson and Michael Ross.
The sail was used by Olympics Silver Medal winners Iain Percy and Andrew (Bart) Simpson as part of their training for the Games in Weymouth. It carries the identification number "8371" which is the number used by the sailors at the 2008 Beijing Olympics and their World Title winning races at the Championships in Rio. In addition, the Gold star on the sail indicates that it is from a World Championship winning team.
The sail is part of a charity project and will raise money for the Royal Yacht Association's "Sail for Gold" fund, the RYA's Sailability Trust, and the Royal National Lifeboat Institution.